June 16th, 2022 at 12:31 am
I have no idea how, but MM(18) had about $420 college dining dollars left over. I just bought the smallest plan (he will have an apartment/kichen next year). So that he can roll over the dollars. Paid $250 for $275 campus dining dollars. That gives him $695 when he goes back to school. Or about $75/month.
I think we will be able to carve out the rest of his food spending from our grocery budget. Ideally, we can squeak by with $225/month for groceries ($225 + $75 = $300/month). Who knows. Is just what we will try to start with. I don't know if he will have access to a car. If he does, that will help with grocery costs.
Insurance is due on the kids' car. I just charged it to MM(18)'s credit card. Between the "away from home" student discount and his good driving record, it dropped about $150 (6 months) from last year. I figure (that MM) paying $230 is reasonable for basically one year. & he should have some paychecks before the balance is due. (I paid the prior renewal because he wasn't home or using the car).
I noticed that his "good student" discount was missing, so inquired about that today. I might not have noticed otherwise (with the rate being so low this time), but they asked me for his grades several times after I sent it in. So I wanted to make sure it was applied, and it was not. I've since heard back to send in his grades for further discount.
With the unexepected found time this last weekend (MH found a ride home from college), I redirected that time to long put off chores. The biggie was getting through some purging. Made some progress, but have a ways to go. Was extra motivated with a new furniture purchase, which I will try to share (a picture) below.
Edit: Made further progress today. Just one big/bulky item left, that I probably most wanted to get rid of. But I haven't listed it for free yet. So there is still hope. I just hope it goes quickly when I list it for free.
I did pull $100 from cash to reimburse MM's friend for gas. (I had no idea how much big vehicle plus trailer gas is). But I started with that and MM told us later that's about what they spent on gas on the way home. Probably would have been more but I saw the vehicle was a hybrid when they dropped him off. That helped...
I then bugged DL(16), for like the 10th time, to give me some of his cash. To the point I counted his piggy bank cash one day and he had $200! (Just using him as my ATM machine, transferring the sum to his savings account). I probably got a little more pushy after MM(18) took so much cash. DL(16) tossed a lot of $1 bills at me and I said, "DL! You have $200 in there!" I guess he took out "half" the (physical space of) money but didn't realize. So he tried again and gave me $170. That was better. Saved me a trip to the ATM.
I told DL(16) that his bank balance was $2,700, after transfering all that birthday/Christmas/whatever money he had piling up in his room.
Later DL asked me if it was too soon to go back to the thrift shop. I said it is never too soon. 😉 (That's the whole point, can go every weekend if he wants). To which he replied very reponsibly, "I need to get a job first." Which is fine, but looking at his $2,700 bank balance, I might encourage him to go if he wants. Or at the least, I will step back and let him pay (if he goes back before he gets a job).
We seem to be going through a round of murphy.
MH just replaced the bulb in his projector (home movie theater). He asked me when we bought the projector. 2014. So it has been 8 years. Doing the math, it sounds about right as to bulb life. For a very heavily used projector.
Fingers crossed. Not 100% sure that was the problem (the free fix), but he's watching a movie and testing it out right now. (The projector came with a replacement bulb).
Then I noticed that our dryer was not turning off on its own. It's liveable in the short run, but not ideal. MH called our appliance repair guy last night and he warned us it might be $350. Ugh! MM's gut feeling was that it was important to fix *and* not worth being so wasteful as to buy a new dryer. It's only 3 years old. We were both very much on the same page.
Happy to report that's all it was (could have been worse, which we were also warned). I couldn't even remember the last time we reparied an appliance. So between that and the newness of the machine... Grand total ended up being $340. The part was expensive and he found another small problem.
I did look it up and it had been a very long time. We had paid him $60 to fix a dishwasher leak in early 2015. So it has been over 7 years. $185 to repair our washer in 2013. I believe this guy had also come out in the past and charged us -$0-. So though the $340 is very ouch... Big picture, I am okay with it.
In other randomness, I finally replaced a super cheapie ($15?) table that I recall my mom buying me when I moved out at 18. (It was very cheap/wobbly and I have been wanting to replace forever). I had picked out a replacement in 2015? but never pulled the trigger. I think it was 2015 or 2016, I just saw it come up in my photo memories. Apparently spring is when I think about replacing the table. Anyway, I finally did it! The new table arrived, MH put it together right away, and this is what spurred some of my purging. I like it better in person and the space is huge. Is where I always hid all my donations, and it still works for that.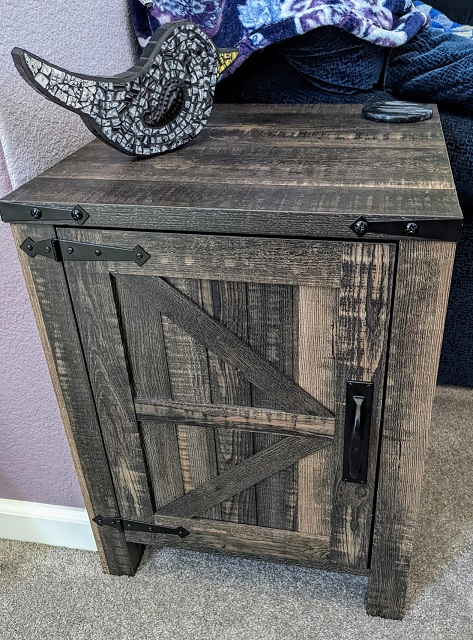 There's still a lot of hand-me-down furniture in our house and things we have never bought new. But... I think that was the only thing left over that just wasn't nice or functional.
& MH is wise. As I consulted with him and was ready to pull the trigger, he said, "Do we even need a table?" He's right. But I just had it so in my craw at that point. I wanted to scratch the itch! I decided maybe he was right but that MM(18) would need some furniture soon. Maybe for his apartment junior year. (Maybe I could scratch the itch and then ponder letting it go). But... Now that it's here. Screw that. MH and I both really like it.