October 5th, 2022 at 03:02 pm
It's a miracle, but I didn't have to back out of or cancel the trip! So many last minute canceled trips in recent years. So I am mostly in disbelief that we pulled it off.
The trip was very pleasant. We loved Tucson. Apparently, sunny (no clouds) and 90F degrees (forecasted) every day means some random rain and thunder just about every day. That was a pleasant surprise. Here in California, sunny and no clouds means sunny and no clouds. 😁
This was the film festival to go to. It took place in a large movie theater, which was very promising and seemed less hokey than most of the other (very small) Festivals that we have attended. In the end, MH's 11am time slot (Sunday) was not well attended. Nothing really was well attended (more than 10-15 people). But the venue was so nice and the movies were higher quality than most of the festivals we have gone to so far. The people running it are very ambitious (want to get very big) and were *so* nice. So though the turnout was not large, the size was kind of workable as far as getting to know everyone. MH made a lot of connections and got more out of this than any of the other festivals. For example, the Oregon festival coming up, they network *before* they show the movies (not as useful). It goes very late and it's in a drive-in. Doesn't sound like much opportunity to chat afterwards. At first MH admitted that clearly that one is not worth it. But... Then he made so many connections here, including several people telling him that this other festival has a really good reputation. One of them who won a bunch of awards in Tucson couldn't get into that festival, etc. So MH changed his tune in the end. I think he's still undecided and we will probably just drive (to save ~$800). Airline tickets keep getting more and more expensive.
& later, MH told me he wanted to go back to this festival next year. So do I! I had so much fun.
So that was a very unexpected outcome. It could have just been really hokey, no one showing up, etc. If that was the case, we would have just enjoyed the area.
The in-laws' timeshare properties can be hit and miss sometimes, but this one was really nice. We had a little casita, right next to the National Park. When we first walked in I told MH it was a mansion. The place was just huge. It was a one bedroom apartment. Just, very big. We didn't spend much time there, but would have been nice to just sit on the shaded patio and enjoy the view.
The other striking thing was the low cost of everything. I guess we generally don't travel to lower cost places. In recent years, it's been London, LA, Hawaii, DC. So it was refreshing going somewhere so inexpensive. Gas was probably about 1/3 of what we estimated. The gas car we got came up with a surprising 40mpg average for our 530 miles of driving. (We flew into Phoenix and drove the 2 hours to Tucson). With gas costing half as much, we spent about $50 of the $150 I had imagined we'd spend. & I knew gas would probably be cheaper there, but didn't realize how much cheaper. In contrast, gas hit $7/gallon here at home. We paid half that much in Arizona.
Side note: If I lived in Arizona, we'd probably eat out all the time and we'd drive a gas car. Location matters.
Oh yeah, and one last thing. I was really irritated re: super cheapie airfare, at first. When I tried to get our seats at check-in (24 hours before flight). I've just heard so many horror stories in recent years. & the last few times we flew there was no room for our baggage, etc. So I was really pleasantly surprised. We flew American Airlines on one of their newer planes. I refused to pay extra money to pick some random middle seat, when we couldn't sit next to each other anyway. In the end, they did do a good job putting us close together (which cost no extra). & the newer plane had ample overhead storage space for basically everyone to carry on a bag. The seats and leg room was more than I remember (I haven't flown domestic in 6+ years). So I quickly changed my tune. Oh yeah, and after all that, the person next to me never showed up (full flight) so we got to sit together on the way in. & I got an aisle seat on the way back. Didn't get to sit next to MH on the way back, but he was just one row ahead and it was a short flight. Probably best flight experience I've had, in a long time. That was unexpected.
Anyway, I just wanted to do a quick estimate of the cost of the trip and see where we are at. I can already see we went over our 2022 vacation budget, and have some expenses pending. But it came out to about what I expected. We had $1,130 left of our vacation budget.
Spending in Tucson...
$486 Flights
$429 Car Rental
$50 Airport Parking
$78 Film Festival
$275 Food
$50 Gas
$60 Museums
$70 National Parks (was only $25 but MH bought a very expensive hat, and I forgot lip balm)
We decided to retire the Florida ball caps we picked up at WalMart or Walgreens? 10+ years ago and figured we'd just buy hats there. I found one for $5 at Wal Mart but MH ended up picking up a $40 hat at the National Park. He wanted something nicer and wanted to support the National Park. (He also burns very easily and wanted to cover his ears/neck and get a more wide brimmed hat. I don't burn, in contrast.)
In addition to the above, we spent $50 on groceries (including sunblock, which was probably smart because was cheaper there anyway.) & we spent $25 clothing. The hat was cheap but I picked up some other clothing while I was there. Will absorb these purchases in our regular monthly budget.
Total 'vacation' spending = $1,500
So our overage is $370 and we are now considering an Oregon trip. But this is very 'you only live once' and I thought we might spend many thousands this year (if MH had gotten into more festivals). I am very fine with it. We have ~$1,000 coming to us from the State. Can pull from MH's income in the meantime, and his parents always gives us large amounts of money at the end of the year. It's well covered. I'd prefer to use the State inflation relief money, to cover extra travel this year, but not sure we will get it before 2023.
I wanted to see roughly where we are at.
I leave you with some pictures.
Near Saguaro East National Park ~ we did a cave tour here, but the view was amazing
Saguaro West National Park
Saguaro East National Park (cactus + moon)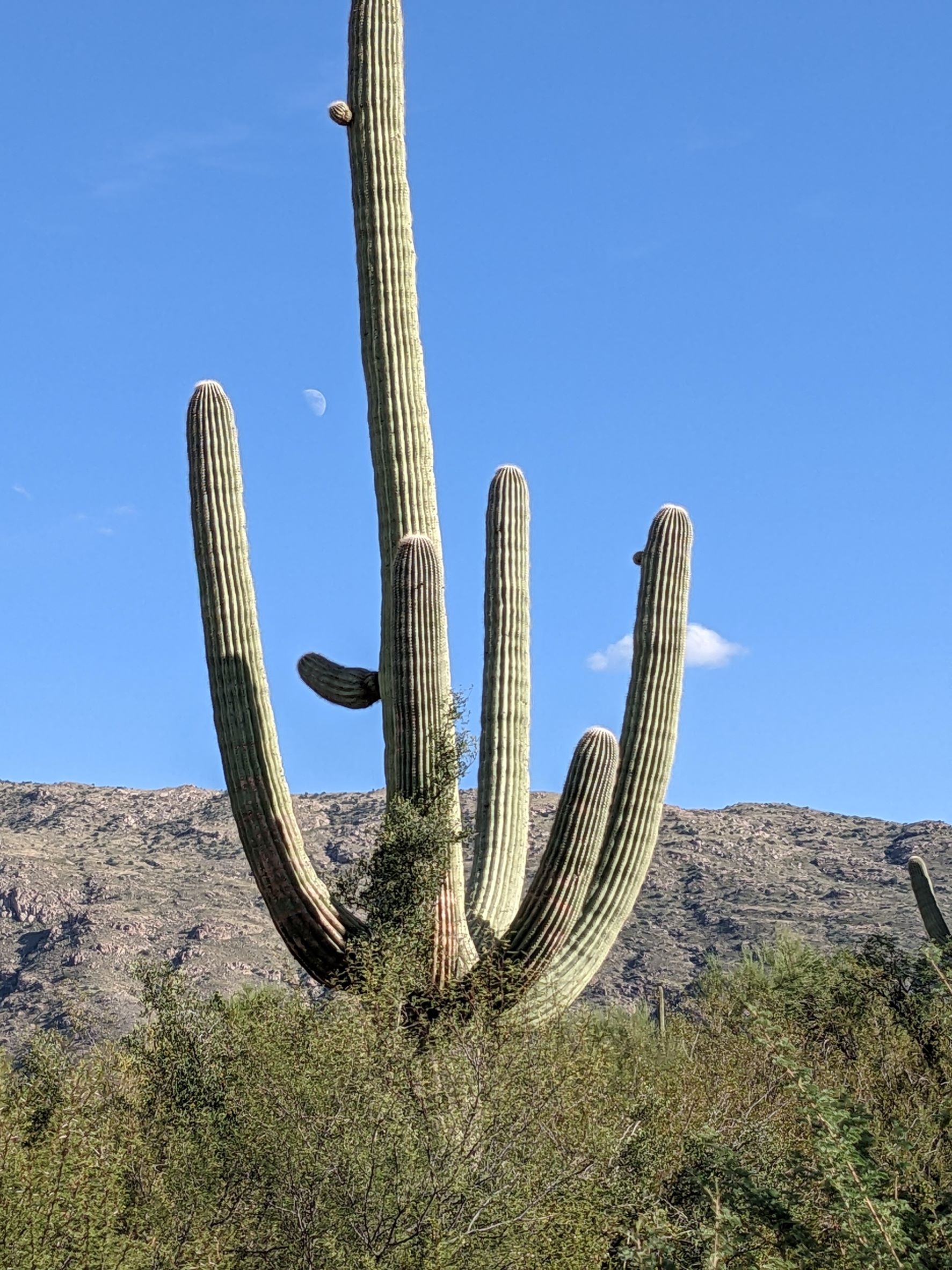 Saguaro East National Park